Eboard chess for Kindle Touch and Paperwhite
Eboard is a GUI interface for chess engines, such as GNU Chess, Sjeng and Crafty, as well as a chess board interface to ICS (Internet Chess Servers). It also works with UCI engines, such as Stockfish, through polyglot program. My port of Eboard for Kindle works with firmwares 5.1.x and higher on Kindle Touch and Paperwhite.
It is possible to play against engines: GNU Chess, Sjeng, Crafty, Stockfish and also over network – on chess servers, such as FICS, or directly with other eboard users. While online you can also watch other players games. Eboard reads and writes chess games in PGN (Portable Game Notation) format. Default folder for storing PGN files is "eboard/bin/settings/games". You can access it from the "Windows->Games on Client…" menu.
Virtual keyboard pops up when input fields are clicked. It hides when focus is taken out of entry field or a return key is pressed. Sometimes keyboard pops up on top of input field and obscures this field, so that one can't see what they are typing. But I don't have a solution for it now.

Eboard is localized into many languages, but I made some changes in menus and didn't have time to adjust translation files. So now it is only English, sorry.

As far as network gaming is concerned I tested guest login to FICS. Automatic login details may be set in autofics.pl expect script manually. You can also disable automatic login in settings and give your login and password during authorisation. I also played direct p2p games with another user using eboard program (installed on computer).

I prepared package to be used with YiFanLu's GUI Launcher or Unified Applications Launcher (for firmware 5.3 and higher). First install the Launcher, then download zip package from this page and unzip its contents to extensions folder on your kindle. Restart kindle, so that new item is visible in the Launcher menu. Start it from the menu.

Installation of this package doesn't change any system files on your Kindle. All the files are installed only in extensions folder. To uninstall just delete eboard folder from extensions.

Todo

Changelog
version 0.6: fixed bug with missing pixmaps in newer firmware
version 0.5: fixed bug preventing p2p (direct eboard to eboard) games
version 0.4: fixed bug preventing opening/saving PGN files, fixed bookmarks display and editing
version 0.3: popup keyboard; gui adjustments
version 0.2: UCI engines support added; Stockfish engine added
version 0.1: first beta release
Downloads
SCREENSHOTS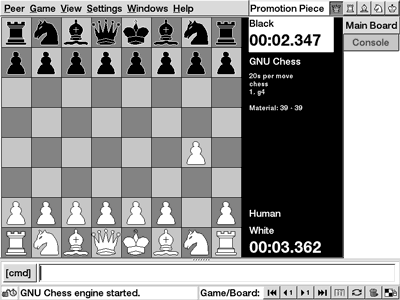 :: Main board with GNU chess game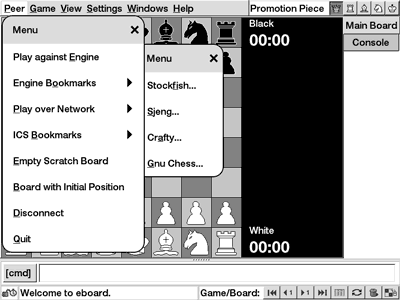 :: Peer menu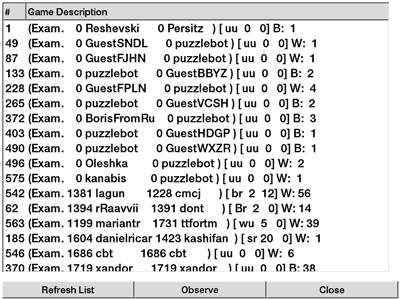 :: List of online games at FICS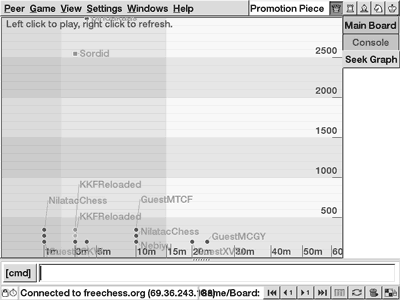 :: Online games on graph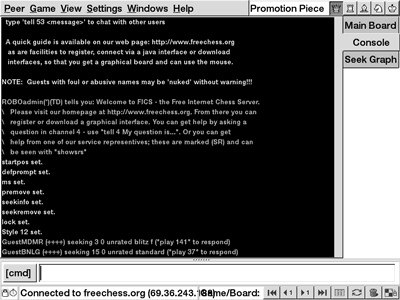 :: Console