Kindle port of Gargoyle – an interactive fiction player
Gargoyle is a GTK+ player for IF. It supports all the major interactive fiction formats. It's designed with special care for game layout and typography.
The look and feel of the interface may be tweaked by fiddling with garglk.ini file. There are settings for fonts, line spacing, margins, colors, gamma etc.
This port is in an alpha stage. It should work on Kindle Touch and Paperwhite. There are not many changes to original source code. To make things easier I build it without sound support. :)
I prepared a package to be used with KUAL Launcher
Supported formats
Adrift games (.taf, played with Scare)
AdvSys (.dat)
AGiliTy (.agx/.d$$)
Alan2 (.acd)
Alan3 (.a3c)
HUGO (.hex)
Inform Z-Machine (.z1/.z2/.z3/.z4/.z5/.z6/.z7/.z8, played with Frotz, Nitfol or Bocfel)
Inform or Superglús games compiled to the Glulxe VM in Blorb archives (.ulx/.blb/.blorb/.glb/.gblorb, played with Git or Glulxe)
Inform Z-Machine games in Blorb archives (.zlb, .zblorb, played with Frotz)
JACL (.jacl/.j2)
Level 9 (.l9/.sna)
Magnetic (.mag)
Quest games (.asl/.cas, played with Geas)
Scott Adams Grand Adventures (.saga)
TADS (.gam/.t3)
SCREENSHOTS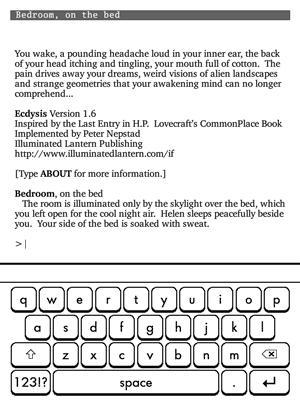 Todo
fix bugs if time allows
add sound?
Changelog
version 0.2: fixed bug with parsing config file with some locales (thanks to NiLuJe)
version 0.1: first release
Downloads
Patches (for developers)